Training and Workforce Development Center – A place to learn and discover
MASPark serves employers who offer ongoing training and certification opportunities to employees, and professionals and students seeking to advance their skills. Served by approximately 3,500 square feet of training space, the Training and Workforce Development Center includes a welding lab, an Amatrol equipment lab for advanced manufacturing technology and green energy training, a 25-seat computer classroom, and a wide range of equipment to facilitate hands-on learning.
MASPark's Training and Workforce Development Center offers students of all ages ample opportunity to study and earn sought-after certifications in progressive fields. The state-of-the-art communication center complements onsite instruction through virtual audiovisual training with remote colleges and universities.
Welding Training & Certification
The welding program at MASPark prepares students for certification in Shielded Metal Arc (SMAW), Gas Metal Arc (GMAW) or Gas Tungsten Arc (GTAW) welding processes through study of the welding procedure and standards established by the AWS.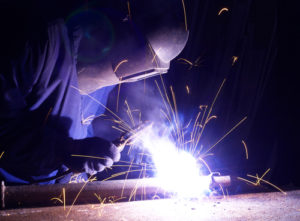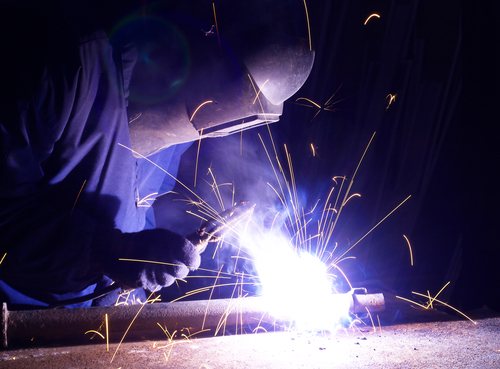 Welding training, provided by Ivy Tech, focuses on technology, with math, reading and writing exercises embedded in class projects. All assignments are completed in class.
Unique to the program is a virtual welding system, offering a hands-on training experience. The virtual system allows students to complete more passes than traditional training, provides real-time welding technique feedback to both trainers and students and conserves resources and materials.
Participants earn a Technical Certificate in Industrial Technology and are prepared for additional certifications. Credits can also be applied toward an Associate of Applied Science degree. Employers can also send employees through welding courses at MASPark. Day and evening classes are available.
Anyone interested in welding training is asked to contact Kristy Holsapple online or by calling (812) 752-4327.
The Scott County Economic Development Corporation and the City of Scottsburg partnered with Ivy Tech Corporate College to provide the Welding Institute at MASPark. A wide spectrum of training opportunities are available for companies, employees and students.
MSSC Certified Production Technician (CPT)
The Manufacturing Skills Standards Council (MSSC) is an industry-led, training, assessment and certification system focused on the core skills and knowledge needed by the nation's front-line production workers. The nationwide MSSC System, based upon industry-defined and federally-endorsed national standards, offers both entry-level and incumbent workers the opportunity to demonstrate that they have acquired the skills increasingly needed in the technology-intensive jobs of the 21st century.
Certified Production Technician (CPT) credentials are for manufacturing workers who want to demonstrate mastery of the core competencies of manufacturing production at the front-line (entry level through front-line supervisor). The goal of the CPT certification courses is to raise the level of performance of production workers and their ability to help increase their company's productivity and competitiveness.
Ivy Tech is offering the CPT program through two courses this fall:
ADF 101 – Key Principles of Advanced Manufacturing
Safety — Learn about safety in the manufacturing environment, from personal protective equipment to OSHA procedures and guidelines, to prepare you for the MSSC Safety Assessment.
Quality Practices & Measurement — Understand the measurement of product and comparing results to specifications, the tools used in the quality process and how to take corrective actions when problems are found, to prepare you for the MSSC Quality Assessment.
ADF 102 – Technology in Advanced Manufacturing
Manufacturing Production & Processes — Learn customer needs in a manufacturing environment, the value of setting production goals and coordinating workflow in a team environment, and the many types of production scenarios to prepare you for the MSSC Manufacturing Processes and Production Assessment.
Maintenance Awareness — Learn about electrical, pneumatic, hydraulic, automation, lubrication and drive systems production equipment, including preventive maintenance processes and more to prepare you for the MSSC Maintenance Awareness Assessment.
Anyone interested in MSSC training is asked to email Kristy Holsapple or call (812) 752-4327.
Advanced Manufacturing Training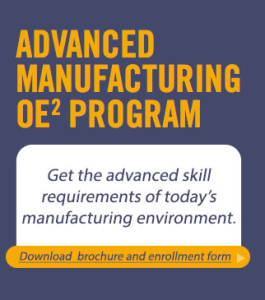 Advanced Manufacturing Simulators:
Pneumatics
AC/DC Electrical Systems
Rotating Machines
Mechanical Systems
Electric Motor Controls
Industrial Wiring
Hydraulics
PLC's
Fluid Power
Green Energy Simulators:
Solar PV Installation
Solar PV Troubleshooting
Solar Thermal Installation
Solar Thermal Troubleshooting
Wind Energy Research and Training
Contact Us:
Anyone interested in advanced manufacturing training is asked to email Joe Pearson or call (812) 752-9521 x1232.
Dual-Credit Courses for High School Students
High school seniors can earn college credit hours  through a dual-credit program offered by Ivy Tech Community College at the Mid-America Science Park. Students get a head start on their college education, saving time and money while earning industry-recognized certifications that boost future employment opportunities and support continuing education.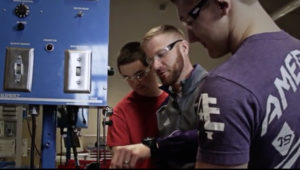 The dual-credit program is offered to students in Crothersville, Austin and Scottsburg, and they can start taking courses as early as 10th grade. The following programs are available:
Welding 

Earn an American Welding Society (AWS) certification in stick welding
Complete up to nine (9) credit hours towards an Ivy Tech degree
Industry partners are in place for securing internships and post high school job placements
Advanced Manufacturing

Earn an MSSC Certification
Complete six (6) credit hours towards an AAS in technology
Area manufacturers need and give preference to MSSC certified students
Anyone interested in the dual-credit program is asked to email Joe Pearson or call (812) 752-9521 x1232.