The Adult Education program in Region 10 serving Clark, Crawford, Floyd, Harrison, Scott, and Washington counties hosted a free one-hour truck driver seminar on May 23 at the Reisz Center in New Albany. Zachary Hebert with Truck Driver Institute and David Stephany with Werner Enterprises met with a group of 10 former and current adult education students to explain training and employment opportunities in the trucking industry.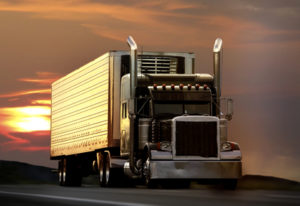 TDI (Truck Driver Institute) is located in Sellersburg and they train for over 25 nationwide carriers, including Werner Enterprises. TDI has a full-time student services department, offers job placement assistance, tuition assistance, and participates in the Post 9/11 Veterans Administration Program.
Werner Enterprises is the fourth largest trucking company in the U.S. and was founded in 1956. Their trucks travel 3 million miles per business day, employ 1350 professional drivers, with up to 70% of their drivers arriving home at least weekly.
Truck driving is listed ninth in the top 20 job listings by number of openings in the April Hoosiers By the Numbers Labor Market Review from the Indiana Department of Workforce Development. Adult Education students are especially interested in a career in truck driving due to the short certification training time and the high wage benefits. According to the Department of Workforce Development, the median hour wage is $18.93.
TDI offers a three-week certification program in CDL-A for men and women 21 years of age and older. The course includes classroom, range driving, and on the road training. Werner Enterprises hires adults with the CDL certification and offers numerous benefits, including tuition reimbursement, a veteran apprenticeship program, health insurance, and a retirement plan.
Wendy McDaniel, Adult Education Transition Specialist, said, "We appreciate representatives from the training provider and the employer taking time to meet with adult education students who want to increase their educational attainment, become trained, and start a career in this industry. Our students enjoyed learning about career opportunities and the high wages offered in transportation, and many will pursue this further."
Adult Education classes are free to adults who are interested in receiving college and career-readiness skills, passing Accuplacer for entrance into Ivy Tech, learning English acquisition skills, or obtaining an Indiana High School Equivalency Diploma. To enroll in an adult education class in the six-county region, call 812-981-3777. The website is www.region10adulteducation.com.