Many of the economic drivers in Indiana and Scott County are key industries for advanced manufacturing, including: aerospace, automotive, electronics, medical devices, plastics, food and beverage, and defense/military.
Reduced labor costs overseas have compelled U.S. manufacturers to bridge innovation and technology in order to remain competitive. Leading companies have learned that technology not only improves the creation of goods, but also the quality in which they are produced. This is the future of manufacturing in the 21st Century – where the latest technology and innovations are used to deliver complex and highly functional products. Put another way, this is advanced manufacturing.
In the last decade, top manufacturers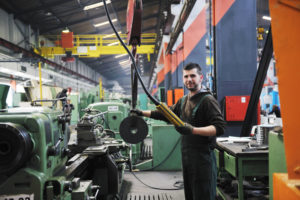 have redesigned their production lines to increase efficiency and reduce labor costs. In doing so, companies have realized that biggest challenge in the advanced manufacturing sector is not finding capital for upgrading equipment. The real challenge is finding skilled workers who can operate the new technology and advanced processes on the production floor. That demand will continue to grow as more companies seek to remain competitive through innovative technologies.
For Scott County residents, there's good news for those seeking advanced manufacturing training. MASPark and Ivy Tech Corporate College offer an Advanced Manufacturing Open Entry/Open Exit (OE2) training program for regional manufacturing workers. OE2 gives employers the ability to customize content to meet their own particular training needs, with the flexibility to adapt the curriculum to match each employee's experience level.
The self-paced courses allow students to complete the classes without having to disrupt work schedules. The model develops job-ready skills that yield a significant return on investment for employers. The end result is a workforce better able to meet the advanced skill requirements of today's manufacturing environment.
Ivy Tech also offers dual-credit opportunities in advanced manufacturing at MASPark for high school students who wish to enter the field. Advanced manufacturing will continue to be a dominant area of job and economic growth in the coming years. Students and workers are encouraged to pursue the educational opportunities that will provide them the skill sets to succeed in the 21st Century.
For more information on training and workforce development opportunities at MASPark, please call (812) 752-9521 x1225.