More than 30 employers from Scott County and surrounding areas participated in the second annual Now Hiring – Scott County Career Fair at the Mid-America Science Park on May 18. The event drew more than 200 job seekers from the area. Employers included manufacturers, health care providers, staffing agencies and more, and all were actively recruiting for open positions.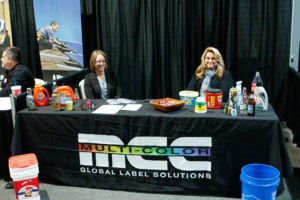 "The success of the career fair is a sign that the economy is thriving," said Scottsburg Mayor Bill Graham. "There are many job opportunities with local employers, and we have some of the best manufacturers in the world."
Selena Dickerson, a member of the career fair steering committee and regional human resources manager at Multi-Color Corporation, participated in the event to recruit for manufacturing positions. "We had several inquiries and talked to a number of skilled candidates," she shared. " There's a lot of opportunity in Scott County for people who want to work locally and earn a good living."
Austin Tri-Hawk was at the career fair recruiting for all manufacturing positions, as well as tool and die makers and robotics/PLC technicians. "We distributed several applications and received a lot of resumes," said Safety Administrator Tina Rice. "Bringing employers together at the career fair gives job seekers an opportunity to talk to several hiring managers in a more casual, relaxed setting. There's less pressure on the job seekers, and they can bring along friends and family for support."
Samtec, recently named a Top 15 U.S. Employer in manufacturing and production by Fortune Magazine, was a platinum sponsor of the Now Hiring – Scott County Career Fair. "We participate because we want to get to know the community and better understand the local workforce," said Craig Mull, plant manager for Samtec Scottsburg. "We had several great applicants come through. The format was great, and the Mid-America Science Park staff is always accommodating. The mentor program with the high school students was a big help in getting them prepared to meet with employers. We look forward to being a part of the career fair every year."
For more on the Now Hiring – Scott County Career Fair, please visit www.nowhiringscottcounty.com. Employers are encouraged to share open positions and hiring announcements throughout the year on the Now Hiring – Scott County Facebook page.