Friday, October 7, marks the fifth annual Manufacturing Day, a day to recognize the importance of manufacturing and the exciting work that takes place in plants across Scott County and the nation. While the official day falls in October, there are plenty of reasons to celebrate manufacturing year round.
Ninety percent of Americans believe that manufacturing is important to economic prosperity, and they're right. Manufacturing supports 18.5 million U.S. jobs and represents 26 percent of all jobs within Scott County. In 2015, manufacturing jobs in Scott County increased 7 percent to a total of 1,951 jobs and an average wage of $49,243 per year.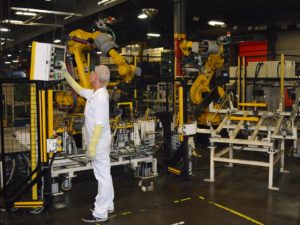 Manufacturing also has a ripple effect across the local economy. Scott County manufacturers invested $14.5 million last year via expansions and new jobs. Every manufacturing job creates another 2.5 jobs in goods and services, and for every $1 invested in manufacturing, another $1.37 in additional value is created in other sectors. (Sources: MFGday.com and stats.Indiana.edu)
Despite the economic benefits, manufacturing companies continue to face a talent shortage. A 2015 Manufacturing Institute and Deloitte Skills Gap study confirmed that six out of 10 skilled production positions are going unfilled. The skills gap is projected to grow over the next decade, resulting in 2 million jobs going unfilled which will have a negative impact on innovation, growth and profitability. That's why Scott County is committed to developing a skilled workforce to support local manufacturers.
The Scott County Economic Development Corporation (SCEDC) has worked to bring more training opportunities to Scott County so that workers have the skills to succeed in manufacturing. Local residents have access to a number of training programs at the Mid-America Science Park in Scottsburg. Our goal is to train as many people as possible through partnerships with Scott County School Districts 1 and 2, Crothersville Community Schools, Ivy Tech, Indiana University Southeast and the Manufacturing Skill Standards Council.
In addition to the economic benefits, manufacturing improves our everyday life. Morgan Foods is one of the largest soup production facilities in the U.S. If you drive a Honda or a Subaru, there's a good chance Austin Tri-Hawk made the structural supports in your vehicle. Ilpea Industries, Inc. likely makes your household chores a little easier by supplying gaskets, tubes and seals to manufacturers like General Electric and Frigidaire. You may not see Tokusen's products, but you certainly count on them to be high quality. The facility makes metal wire for automobile tires, engines, electrical appliances and industrial equipment.
These are the reasons we pause each October to thank our manufacturers. We hope that Manufacturing Day also inspires the next generation to pursue rewarding careers in the industry. Please join us in celebrating manufacturing in Scott County!
Robert Peacock
Executive Director, SCEDC
P.S. Check the SCEDC Facebook, Twitter and LinkedIn pages in October for more interesting facts about local manufacturers.