Evolving Economy and Workspace
As America's workforce has evolved over the last 50 years so, too, have the spaces where we work. Industrial jobs began to decline in the 1960s as service jobs took over. Our workspaces underwent an equally dramatic transformation as technology increased efficiency and output. Gone are the days when workers made long commutes only to sit in 5×5 foot cubicles for most of the day. An increasing number of young professionals are now working from home, or even the local coffee shop, and those entrepreneurs and contractors will continue to grow. The Bureau of Labor Statistics estimates that over the next five years, 65 million Americans will find work as freelancers, temps, entrepreneurs and independent contractors. That means nearly 40 percent of the workforce will be self-employed in some fashion.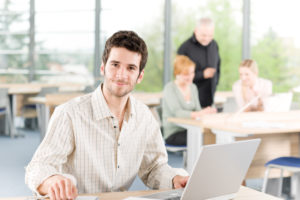 While many independent contractors enjoy the flexibility of working from home and determining their own hours, they miss the connective, collaborate nature of working around other people. Simply put, few workers want to be isolated and seek the motivation and creativity that is spawned by working around other professionals.
Coworking Spaces as a Startup Solution
More entrepreneurs are looking to coworking facilities as both inexpensive office space and a place to collaborate with other professionals. Coworking spaces, which are popping up across the country, offer WiFi, print centers, conference rooms and kitchen areas. Equally important: shared business studios offer new companies the opportunity to rub elbows with others in their world.
The benefits of sharing workspace extend beyond the social aspect. Independent contractors and entrepreneurs say they are more productive and creative working around other professionals. The ability to bounce ideas off others facing similar challenges is also invaluable. In fact, according to Deskmag's annual Global Coworking Survey, 71 percent of participants reported a boost in creativity since joining a coworking space, while 62 percent said their standard of work had improved.
But entrepreneurs and independent contractors aren't the only ones seeking the benefits of coworking spaces. Google and Amazon are among the many Fortune 500 companies that offer their staff temporary spaces at established coworking facilities. These companies recognize that if employees are traveling or need to hold meetings, coworking spaces are a flexible and creative answer. Plus, it's a cost-effective solution – whether the business is a startup on a tight budget or a large company focused on keeping costs down.
Growth of Coworking Spaces
Shared workspace facilities are literally popping up across Indiana and the country. From towns like Fishers north of Indianapolis to New York and Chicago, shared workspaces are becoming the new normal of the evolving workplace. The Mid-America Science Park in Scottsburg, a hub for entrepreneurs and creative startups in Southern Indiana, offers the same outlet to independent contractors in the region. Contact us to learn more about our available coworking space in Southern Indiana.