The school year is nearing its end, meaning a select group of Austin and Scottsburg High School seniors will not only be graduating high school, but they will also be completing collegiate courses thanks to a dual-credit program offered by Ivy Tech Community College of Indiana. Students who were a part of the Advanced Manufacturing (ADMF 101 and 102) and Welding (WELD 108 and 206) classes were able to spend a portion of their school day at Mid-America Science Park for the last two semesters.
"Being able to teach Advanced Manufacturing at MASPark has been very beneficial," said Kyle Mullins, Advanced Manufacturing instructor. "The setting exposes students to what it is like to work in a more industrial environment. It also brings light to the fact that this is an adult learning environment."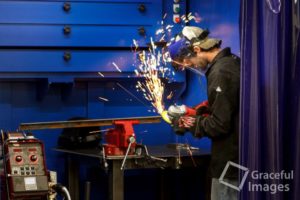 Students from Scottsburg High School and Austin High School had the opportunity to gain six college credits as well as four certifications from the Manufacturing Skills Standards Council including Safety, Quality Practices Measurement, Manufacturing Processes and Production and Maintenance Awareness.
This additional training provides students with skill sets that most other graduates do not have and strengthens the quality of the Scott County workforce. The course subjects are specifically aligned to meet the talent needs of regional employers. According to Mullins, the students have taken the courses very seriously and are all excelling.
"Indiana is a manufacturing state and as manufacturing grows, so does our economy," said Mullins. "These students are building technical skills necessary to make them competitive at a very early stage. I'm hopeful that many will stay in our community and make it a better place for everyone."
The program, which was two semesters this year, will evolve into a four-semester program beginning in the fall. According to Mullins, this will allow students more time to have a greater amount of practical application.
For more information on training and workforce development opportunities at MASPark, please call (812) 752-9521 x1225 or visit maspark.org.