The Mid-America Science Park and the Scott County Economic Development Corporation are offering an exciting leadership training opportunity beginning March 19. Scott County residents are invited to participate in a seminar series, presented by Sullivan University and Dale Carnegie Training, which will coach individuals on how to maximize performance, become stronger leaders and add more value to their organizations. Scott County Chamber of Commerce members and their employees are eligible for a special reduced rate. A preview session will be held at MASPark on Feb. 26 at 6 p.m.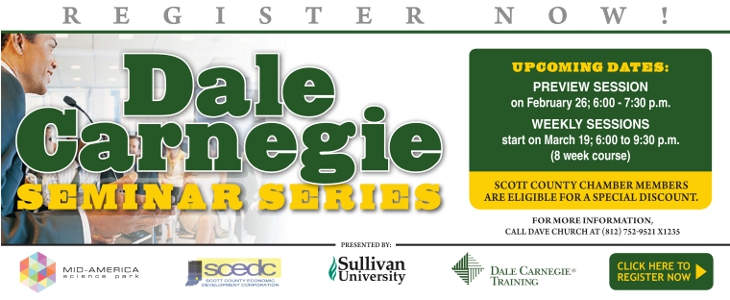 The Dale Carnegie Course uses team dynamics to help people master the skills needed in today's business environment. Participants learn how to strengthen interpersonal relations, manage stress and handle fast-changing workplace conditions.
"In today's competitive marketplace, effective internal communications and leadership are vital to business success," said Joe Pearson, Ed.D., executive director of MASPark. "We are excited to be partnering with Dale Carnegie Training to offer this excellent training opportunity."
A preview session will be held at MASPark on Feb. 26 from 6-7:30 p.m. (no registration required) for those interested in learning more about the Dale Carnegie Course. The weekly sessions will be delivered on Wednesday nights from 6 to 9:30 p.m. for eight weeks beginning March 19. Those interested in participating in the Dale Carnegie Seminar Series are asked to register online at www.dcarnegietraining.com/masp_dale_carnegie. For more information, please contact Dave Church at MASPark at (812) 752-9521 x1235.