Eight local educators returned to school this year with new real-world experiences to share with their students after participating in a Summer Teacher Externship program organized by staff at the Mid-America Science Park in Scottsburg. The program offered teachers and counselors a professional development opportunity to better acquaint them with regional employers who can assist in educating students by sharing industry trends and information, visiting schools as guest speakers and providing services and project materials.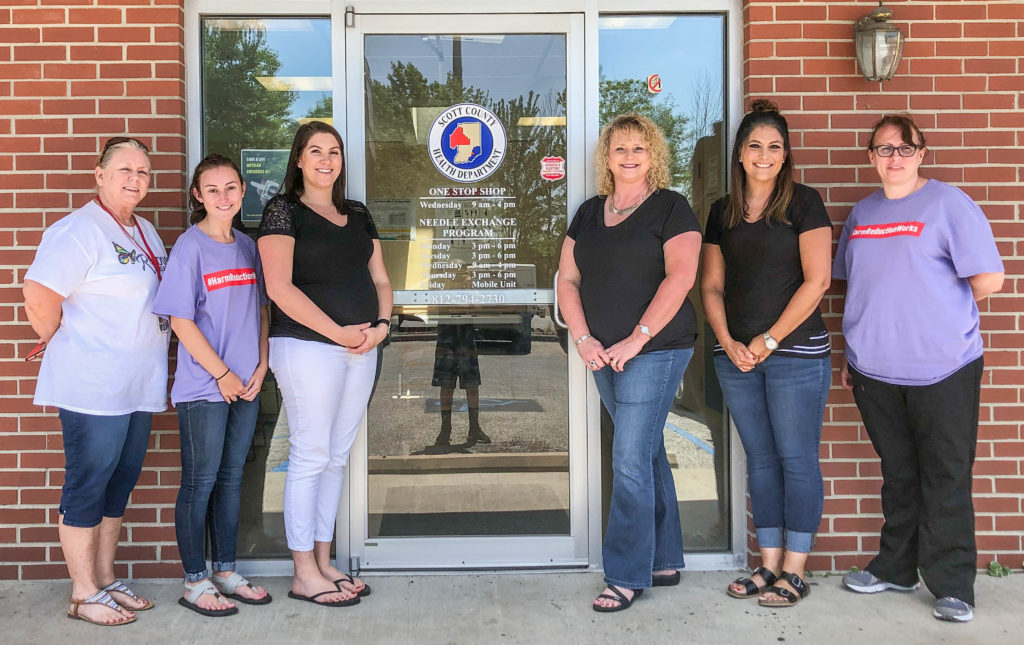 Ten companies and organizations hosted educators: Austin Tri-Hawk Automotive Inc., Bruce Fox Inc., Cerrowire, CoreLife Eatery, Hampton Oaks Health Campus, Indiana Dairy Association, Grant Line Nursery & Garden Center, Samtec, Scott County Health Department and Southern Indiana Equine Center.
Teachers and counselors were asked what they would like to learn with an understanding that lesson plans would be developed from their experiences, which ranged from business administration to public health.
Austin High School counselor Cindy Watts spent one day at Hampton Oaks Health Campus and two days at the Scott County Health Department. She shadowed a variety of areas at Hampton Oaks learning about possible job opportunities for students. At the health department, Watts learned about free services and how the Needle Exchange Program is making a difference in Scott County. She plans to use this experience to talk with students about the dangers of experimenting with drugs.
"My externship experiences were wonderful. I already have students applying for jobs made possible through my externship at Hampton Oaks Health Campus, and I have coordinated potential services and resource sharing with the Scott County Health Department," said Watts. "I highly recommend this externship opportunity for anyone. It allows you the chance to become a liaison between the school and the community. I'm so thankful."
Linda Myers, a teacher at Crothersville High School, shadowed at three different locations giving her an opportunity to make several new contacts at Southern Indiana Equine Center, Austin Tri-Hawk Automotive and Grant Line Nursery & Garden Center in New Albany. She hopes other teachers take advantage of future externship opportunities, and visit more than one employer if possible.
"I enjoyed being able to see how the things I am teaching my students will be used outside the classroom," said Myers. "I was so impressed with the promptness and fast pace of the meetings at Austin Tri-Hawk. Every member is held accountable for their area, and they give reports daily at their morning meetings."
Myers plans to use the Austin Tri-Hawk reporting method to help hold students accountable for their contributions to group projects.
Scottsburg High School teacher Jennifer Morris connected with Samtec in New Albany. She saw first-hand the effect culture can have on the success of a business.
"It was remarkable to see the culture of excellence and service that Samtec has instilled in every employee from the CEO to employees in operations," said Morris. "I learned the difference between an internship and a co-op, and how Samtec uses a co-op program to recruit full-time employees through a competitive hiring process."
Beth Walton, also a teacher at Scottsburg High School, externed for two days at CoreLife Eatery and one day with the Indiana Dairy Association at the Indiana State Fair.
"I loved both experiences. At CoreLife I learned more about the food industry, and I talked with employees about why they chose their careers and how they select ingredients and flavor profiles," said Walton. "With the Indiana Dairy Association, I saw dairy production from the cow to a grilled cheese sandwich, and I learned about nutritional benefits and industry technology."
Walton is excited to share the benefits of dairy, protein and vegetables with her students via new recipes she says are healthy and creative.
"I gained respect for our local workforce after seeing the effort, teamwork, knowledge and persistence they put forth to make a living for their families," said Rhonda McCammon, a sixth grade general education teacher at Crothersville Junior-Senior High School, who externed at Cerrowire. "I now have concrete examples from local industry to help students understand how the skills they are learning today can be applied in their future careers."
"One of our top priorities at the Mid-America Science Park is to strengthen the local workforce, and building partnerships between educators and employers is an important part of that effort," said Mid-America Science Park Executive Director, Joe Pearson, Ed.D. "The feedback we received from the educators who participated in the summer externships was wonderful, and we're thrilled to see their experiences are already making a difference with students."
Local school systems offered to pay each participant $100 per day stipend for up to three days. For information on future externships, educators should inquire during teacher meetings in the spring.