With a rising need for skilled manufacturing workers around the country, there's no better time for students to consider a career in manufacturing. The team at Mid-America Science Park (MASPark), in partnership with educators and local employers, is making sure they get that opportunity. From October to December, MASPark helped organize employer tours for more than 360 Scott County high schoolers, giving them an inside-look at career options in manufacturing. Students toured a variety of companies and heard from owners and employees firsthand. The program is part of a regional approach to workforce development implemented by MASPark, employers and educators to train a more skilled workforce.

John Dattilo, Career Pathways Coordinator at MASPark, facilitated the trips to local manufacturing companies as an expansion of the National Association of Manufacturers' Manufacturing Day (MFG Day), which officially took place on Oct. 5, 2018. MFG Day was created to give employers an opportunity to show students what manufacturing is, address the labor shortage and connect with future generations. Instead of a one-day event, schools, employers and MASPark coordinated multiple MFG Day experiences over a few months so more students could participate.
"Our goal is to connect schools and companies through work-based learning," said Dattilo. "By design, Manufacturing Day is a see, smell, touch and feel experience for the students. We want high schoolers to understand the fantastic opportunity they have to enter the field of manufacturing and earn a great living quickly."
Each MFG Day experience looked slightly different for the four high school groups that participated. On Oct. 10, more than 200 sophomores from Scottsburg High School had the opportunity to visit American Plastic Molding Corporation, Austin Tri-Hawk Automotive, Buchanan Group, Morgan Foods and Viking Plastics. Two weeks later, nearly 30 seniors from Austin High School participated in a trip to Austin Tri-Hawk and Samtec, followed by one dozen Grace Christian Academy students who visited Austin Tri-Hawk and Morgan Foods the following week. The final group of Scottsburg High School students, who are currently enrolled in advanced manufacturing, construction and welding courses at MASPark, toured Samtec and Purdue Polytechnic Institute on Dec. 11.
"It is so important in our college and career exploration to expose students to local employment environments," said Scott County K-12 College and Career Counselor Shannon Mount, Ph.D. "Seeing actual, physical places and career opportunities in our community allows our school counselors to take the conversation to another level in a student's career guidance. We can talk all day long at students, but it really starts to connect when we can get them out of the school building to see post-secondary workplace options."
MASPark, along with the Regional Manufacturing Alliance (RMA) and Indiana Manufacturing Competitiveness Center (IN-MaC), provided free t-shirts for the students to wear as they toured the facilities. The Regional Manufacturing Alliance is a consortium of partner employers and MASPark, created by the Scott County Economic Development Corporation to strengthen the position of regional manufacturers.
IN-MaC is a Purdue University effort to address economic challenges in partnership with Ivy Tech Community College and Vincennes University. IN-MaC mobilizes its resources, expertise and network to strengthen the relationship between workforce education, technology adoption, and manufacturing research to elevate Indiana as the manufacturing destination of choice.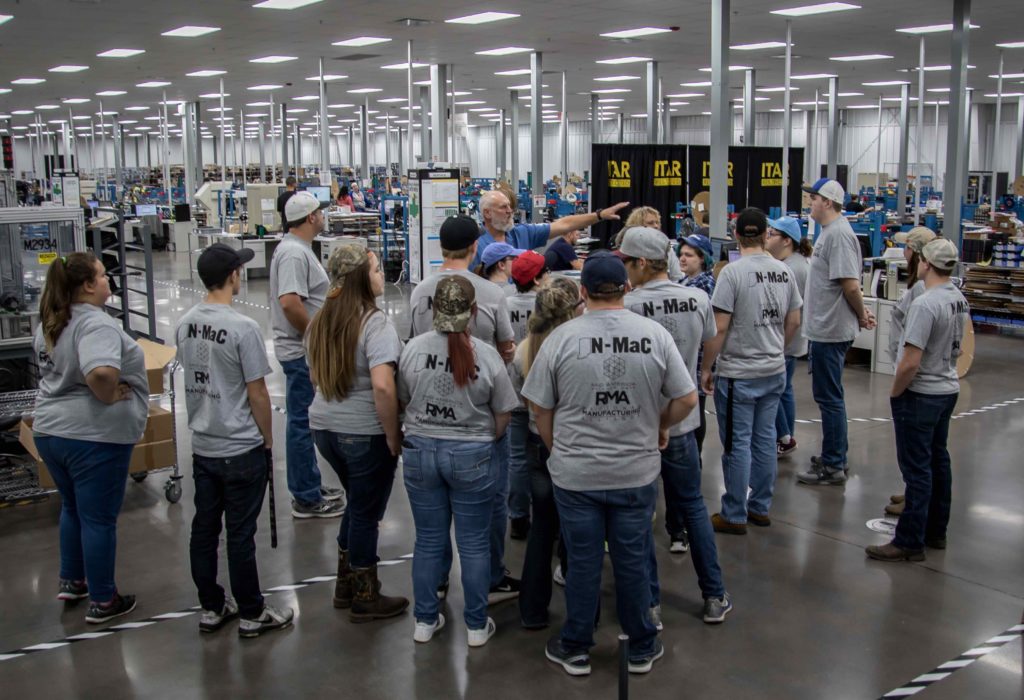 Though some students were skeptical at first, employers, administrators and teachers made a point to show them manufacturing jobs across the spectrum to draw their interest.
"When you talk about manufacturing, often times people think of the person that's standing at the machine," said Dattilo. "We tried to show the students other careers in the field, such as logistics, engineering, finance, shipping and receiving, and more. Watching and talking with workers from a variety of careers proved to be an eye-opening experience for the high schoolers."
According to Dattilo, many students' interests were piqued while observing workers with engineering careers, like chemists and robotics engineers.
"Students think you have to go to the coast for technology," said Dattilo. "This experience helps them realize the skills are right here in Scott County."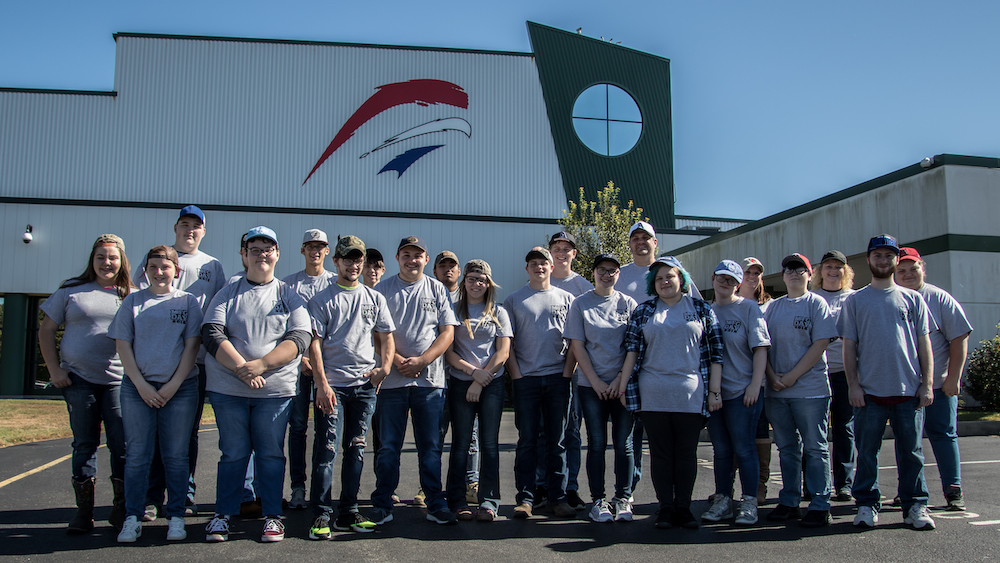 Manufacturing companies also benefit from bringing the next generation of workers into their facilities. Many of their representatives heralded the same message to students: They must show up on time every day, and they must stay drug-free.
"A few students told me afterwards that they now understand why some school policies, like attendance and substance testing, are in place after hearing how important it is to have good attendance and be drug-free in the workplace," said Mount. "It is so valuable anytime we can connect the world of school with the next step beyond high school."
Students learned that the vast majority of the companies offer college tuition assistance and pay for certifications. High school graduates with only a few years of relevant industry experience often earn an income that is more than or equal to college graduates.
To get students on the right track, many companies target students as young as freshmen or sophomores so they can choose the right electives in their final years of high school.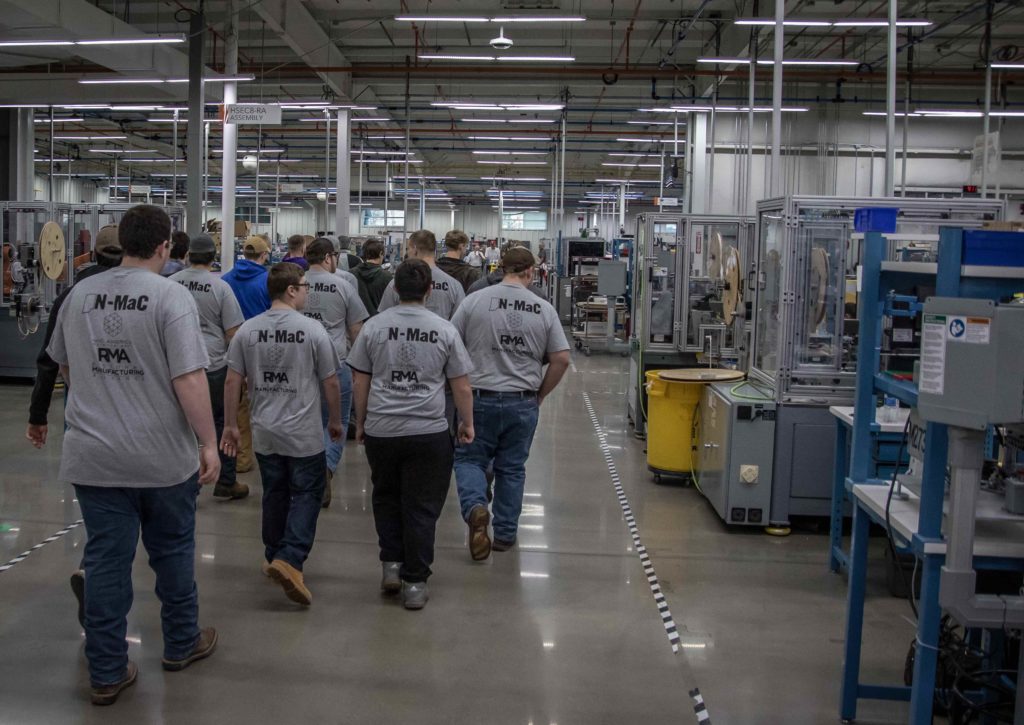 "Employers understand they have to grow their own. They need to talk to students at a younger age if they want students to take the relevant classes in high school. They have to be a 'business partner' with schools to keep kids in this community as a future workforce," said Dattilo.
The efforts of MASPark, schools and local employers have grown the company-school connections from just 87 students participating in MFG Day in 2017 to more than 360 over the past few months. The plan is to continue fostering those relationships to refine the process and offer job shadowing opportunities into 2019.
Programs such as this one are made possible by IN-MaC, in partnership with Mayor Bill Graham, the Scottsburg Redevelopment Commission, Mid-America Science Park, and the Scott County Economic Development Corporation. Manufacturing companies interested in opening their facilities for a tour or job shadowing opportunity should reach out to John Dattilo at the Mid-America Science Park by phone (812) 752-9521 ext. 1260 or email at jdattilo@maspark.org.