Manufacturing employers across the U.S. and Southern Indiana are expressing concern over the lack of alignment between the skilled workforce they need and the number of local job seekers with the right skills and credentials. We face these issues in Scott County and Southern Indiana as well.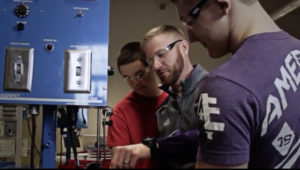 The Mid-America Science Park (MASPark), along with its educational partners, are addressing this challenge with progressive training and career development programs. MASPark is currently offering a number of training programs through Ivy Tech in welding and advanced manufacturing for Scott County and area manufacturers. Dual-credit courses have been expanded in the past two years in partnership with area high schools and their students in Austin, Scottsburg and Crothersville.
The City of Scottsburg is making a major capital and equipment expansion at MASPark this summer so that Scott County students can be first in line for training and these new jobs, allowing them to find quality employment in the community upon graduation.
MASPark also works closely with the Manufacturing Skills Standards Council (MSSC), an industry-led training, assessment and certification system focused on the core skills. These Certified Production Technician courses and credentials are for manufacturing workers who want to demonstrate mastery of the core competencies of manufacturing production at the front-line (entry level through front-line supervisor). The goal is to raise the level of performance of production workers and their ability to help increase their company's productivity and competitiveness.
Through the efforts of the City of Scottsburg and the Scott County Economic Development Corporation, Scott County employers and workers now have available these MSSC training tools at their facilities or through MASPark's training programs.
MSSC's goal is to credential 20 percent of the nation's front-line manufacturing production and material handling workers by 2030. MASPark wants to accelerate and surpass that goal for local students and workers in Southern Indiana so that Scott County can help local employers expand and attract new business and jobs by providing a well-trained local workforce.
To learn more about these programs for your child who is still in high school or a resident who wants to upgrade your industrial workforce skills, please contact Justin Westmoreland at the Mid-America Science Park.
Justin Westmoreland
Director of Workforce Development
(812) 752-9521 x1255
jwestmoreland@maspark.org