Starting a business is no easy task. That's why the Mid-America Science Park (MASPark) is now providing SCORE mentoring for start-ups and entrepreneurs. SCORE is a nonprofit association dedicated to helping small businesses get off the ground, and grow and achieve their goals through education and free mentorship.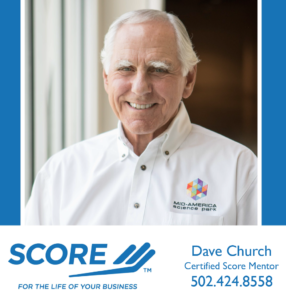 David Church, MASPark business development director, is serving as the SCORE mentor for Scott County.
"I enjoy helping entrepreneurs identify a problem and connect them with the right sources to solve their problem," said Church. "Networking is vital for the success of any business, which is why I encourage it."
Church has been advising small business owners for years, but just recently went through the process to become a SCORE mentor. In this role, Church joins 11,000 + diverse volunteers throughout the nation who are dedicated to helping small businesses succeed.
Entrepreneurs who are advised by Church benefit greatly from his business knowledge. After 50 years of owning and managing multiple companies, Church's business skills and expertise include sales management, marketing, networking, business development and profit growth.
According to SCORE, small business owners that receive three or more hours of mentoring report higher revenues and increased growth. SCORE is America's premiere premier source of free, confidential business advice. MASPark is currently the only location is Scott County that offers this service.
"The mentoring we provide at Mid-America Science Park not only creates success for the small business owner, but also our entire Scott County community," said Church.
Entrepreneurs interested in receiving SCORE mentoring from Church can find out more information or set up a session by calling MASPark at (812) 752-9521 x1235.