The National Institute for Metalworking (NIMS) has recognized the Mid-America Science Park with a "Partner Excellence Award." NIMS was formed in 1994 by the metalworking trade associations to develop and maintain a globally competitive workforce.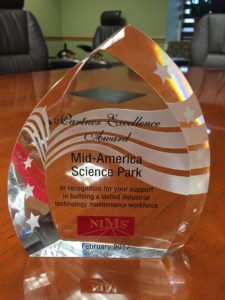 NIMS sets skills standards for the industry, certifies individual skills against the standards and accredits training programs that meet NIMS quality requirements. NIMS has developed skills standards in multiple operational areas covering the breadth of metalworking operations including metalforming, machining, and industrial maintenance.
The Mid-America Science Park's Training and Workforce Development Center offers students of all ages ample opportunity to study and earn sought-after certifications in progressive fields, including welding and advanced manufacturing.
High school seniors can also earn college credit hours  through a dual-credit program offered by Ivy Tech Community College at the Mid-America Science Park. Students get a head start on their college education, saving time and money while earning industry-recognized certifications that boost future employment opportunities and support continuing education.
For more information on our training and workforce development programs, please email Joe Pearson or call (812) 752-9521 x1232. The Mid-America Science Park is located in Scott County, Indiana.