Learn more about training and workforce development opportunities available in Scott County.
The Mid-America Science Park (MASPark) will be hosting an open house on Wednesday, Dec. 6, 3 to 6 p.m., to showcase new training classrooms, equipment and convening areas. The focus will be to highlight new training and workforce development opportunities available to students and residents in Scott County. Everyone is invited to attend, and particularly anyone interested in training for a new career, entering the job market soon, starting a new business or learning more about programs available to elementary, middle and high school students.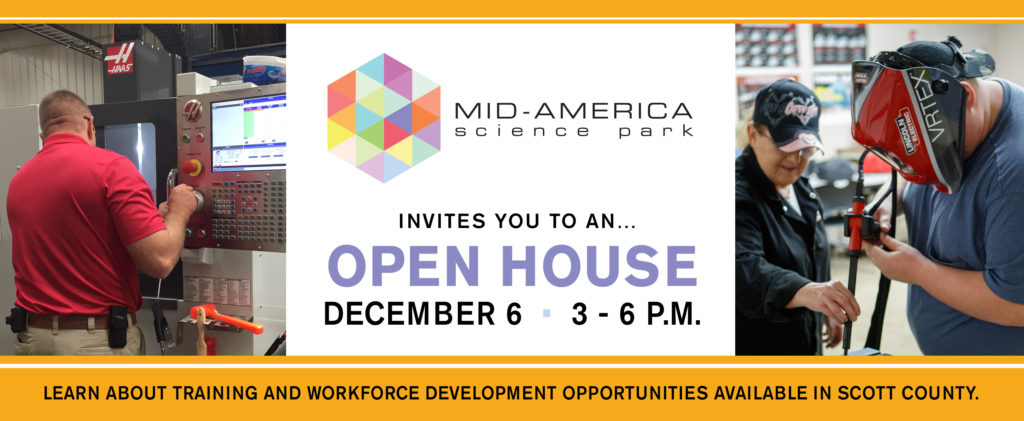 MASPark offers training for careers in advanced manufacturing and welding, giving high school students and workers an opportunity to earn valuable workforce skills and industry certifications for higher paying employment. Additionally, elementary, middle and high school students have an opportunity to participate in exploratory programs at MASPark that introduce science, technology, engineering and math (STEM) principles, preparing them for future careers. MASPark also offers free business counseling and inventor group meetings to entrepreneurs looking to take their ideas to market.
The open house will give the public an opportunity to experience firsthand why MASPark is considered one of the most technologically-advanced training facilities in the region. Attendees will have an opportunity to learn more about the following:
New CNC (Computerized Numerical Control) training equipment. CNC machines are used in a wide range of manufacturing environments, from automotive to energy to aerospace and defense.
3D printers and high-resolution engravers & cutters used for manufacturing training classes, including viewing recent student projects produced on this equipment.
The welding lab and a unique virtual welding system available to prepare and certify trainees with nationally-recognized American Welding Society certifications.
A forklift simulator that accelerates training and learning with a real driving experience for workers employed by area manufacturers.
Industrial training robots used in advanced manufacturing and programming classes for today and tomorrow's automated manufacturing, plus a worldwide recognized robotics training program for young people in elementary and middle school.
Free business consulting and services for local entrepreneurs wanting to create their own new business.
The open house will take place from 3 to 6 p.m. on Wednesday, Dec. 6, at the Mid-America Science Park, 821 S. Lake Road South in Scottsburg. Light refreshments will be served.