Three Scott County students are making history as they delve into the future – via robotics. Lillie Broadus and Mia Voiles of Vienna Finley Elementary, and Alaina Mad Plume, who is homeschooled, are among 110 teams that will be representing Indiana on the world robotics stage this April.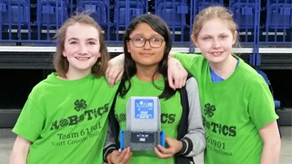 The fifth graders are the first from the area to qualify for the VEX Robotics World Championship. They competeon a 4-H elementary VEX IQ Challenge robotics team called 6 Leaf Clovers. VEX IQ Robotics is a snap-together robotics system used around the world to offer young people an introduction to the areas of science, technology, engineering and math (STEM).
In Scott County, many elementary and middle school teams practice at the Mid-America Science Park.
"When students come to MASPark, not only do they have a dedicated space for learning, but they also have an opportunity to see real robots in action in our workforce training center," said Joe Pearson, Ed.D., executive director at MASPark. "We've also had the opportunity to host regional VEX IQ Challenge competitions which bring families from around the region to Scott County for a fun, exciting day."
The girls advanced through the regional competition held at Mid-America Science Park in January, before joining more than 360 teams at Lucas Oil Stadium in Indianapolis on Saturday, March 9, for the statewide competition. Indiana has the largest state competition in the country with 3,000 students vying for a shot at the world championship.
With a combined six years of robotics and eight years of 4-H experience, Lillie, Mia and Alaina have advanced to the VEX IQ State Robotics Tournament both years they have competed on the 4-H elementary robotics team.
The VEX Robotics World Championship, begins Wednesday, April 24, at the Kentucky Exposition Center in Louisville, Ky. The Indiana representatives will go head-to-head with 1,500 teams from 30 nations, competing in Qualifying and Skills Challenge Rounds to take home one of several prestigious awards. The Scott County team will begin competing in the VEX IQ Challenge portion on April 28.
Since the establishment of the VEX Robotics programs in Scott County in 2016, participation has climbed to more than 100 students and 16 teams from local elementary and middle schools. Along with 6 Leaf Clovers, four squads from Scott County qualified for the state competition this year: two from Johnson Elementary; one from Grace Christian Academy; and one from middle school 4-H.
Scott County families interested in the VEX IQ Challenge should contact their school or 4-H program for more information.