Lending a helping hand to someone in need is common during the holiday season, but for a group of Scott County fifth graders, they are taking the challenge literally. Leveraging Mid-America Science Park's 3-D printers, 30 elementary students have spent the past several weeks building seven prosthetic hands for children in need across the globe. The students attend Johnson, Lexington, Scottsburg and Vienna-Finley elementary schools.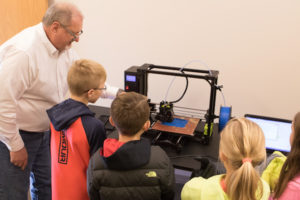 According to Ray Niehaus, MASPark managing director of innovation & technology, students are split into seven teams that are each working relentlessly to design and print their own robotic hand comprised of 28 components that are 3-D printed. The students will then use nylon braided material to lace the fingers and thumbs so the hand is functional. The total cost for materials is about $35 for each prosthetic hand.
MASPark is partnering with Enabling the Future, an international organization made up of groups of individuals who are using 3-D printers to create free prosthetic hands and arms for those in need of an upper limb assistive device. The Scott County fifth graders are the youngest group within the state of Indiana to ever build the hands.
"The students who learn 3-D design and printing skills today will be of great value to employers in the future, particularly in STEM and advanced manufacturing fields," said Niehaus. "With project-based learning, the students are building a strong foundation for success throughout their education and careers."
While these dedicated students are learning important skills and terminology, they are also studying social issues across the globe. The students researched why children may need a prosthetic hand, and they found the main reason varies by country. In the United States, for example, most children lose a part of their hand due to firework accidents. In other nations, it is often due to birth defects, young children being forced to work machinery in factories, or living in war zones with explosives. They have also identified three people in the Scott County community who are missing fingers.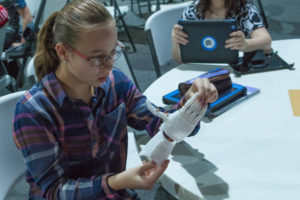 "This program allows students to learn so much more than basic reading, writing and arithmetic," said Chuck Rose, director of elementary school education for Scott County School District 2. "They are genuinely excited to be a part of something that is going to benefit disabled students around the world. We are lucky to have the Mid-America Science Park right in our backyard – no other elementary students in the state have the opportunity to build a project like this."
The hands are in the final stages of development and will be shipped before Christmas. Recipients will receive the 3-D printed hands free of charge, as opposed to $8,000 for a custom-made, muscle-actuated prosthetic hand, which is not financially possible for most recipients.
Though the students do not know where the mechanical hands are going yet, they will soon learn the destination from the recipients via videoconference. For more information on Enabling the Future, visit EnablingTheFuture.org