Scottsburg High School sophomores Treyton Brown and Sam Everett took home the top prize at the Maverick Challenge Regional Competition on Feb. 23 in Seymour, with an idea to start a livestock feed company. The Maverick Challenge is a high school business planning competition in Southern Indiana that encourages high school students to explore innovative career opportunities through entrepreneurship.
Brown and Everett presented a business plan for P.E.F.F. Co., a manufacturer of high-quality, low-cost feed products and services for livestock show animals. In addition to improving feed, P.E.F.F. Co. would focus on implementing processing methods to protect the environment. Brown and Everett also recognized that employing highly skilled people and treating them well would likely result in better customer service and a robust business.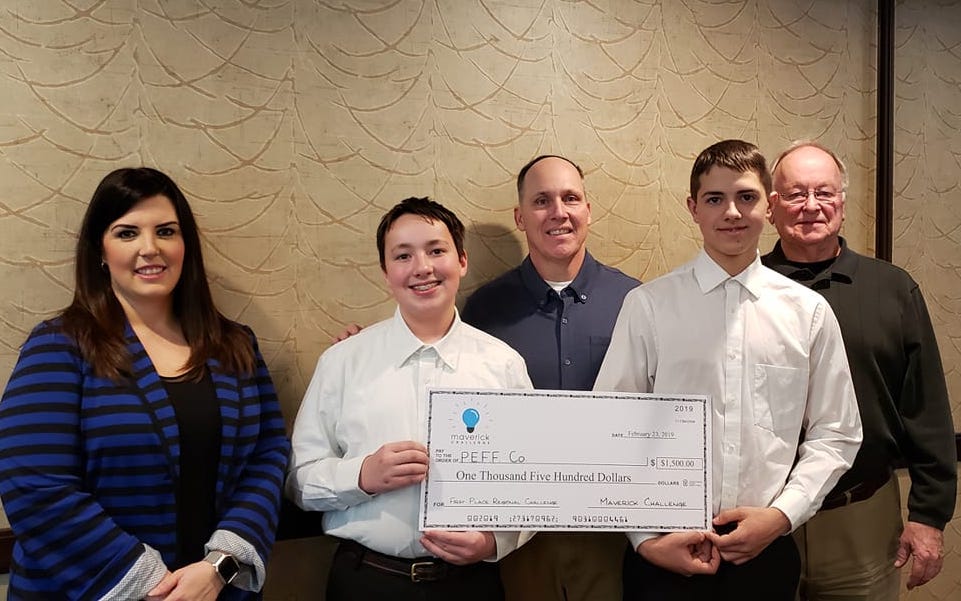 "I would recommend the Maverick Challenge to anyone," said Everett. "It's a great opportunity to get some experience in the business industry and have fun, and it's just an overall good time."
Students from Bartholomew, Brown, Dearborn, Franklin, Ripley, Jackson, Jennings, Monroe and Scott counties competed at the regional finals.Brown and Everett won a $1,500 grand prize bringing their total earnings to $2,200 after winning both the local and regional competitions.Brown and Everett were also part of the team who won the local Maverick Challenge in 2018.
"The audience was swept away by Treyton and Sam's enthusiasm, business knowledge and outgoing presentation," said Robert Peacock, executive director of the Scott County Economic Development Corporation (SCEDC). "The SCEDC has been a long-time supporter of the Maverick Challenge, and we are thrilled to see Scott County students win the regional competition this year."
The Scott County Maverick Challenge is managed by teachers Chandra White, SCSD1, and Jennifer Morris, SCSD2. The program is sponsored by Scott County Economic Development Corporation and Greater Scott County Chamber of Commerce and supported by the Mid-America Science Park and Kiwanis Club of Scottsburg.
The next Maverick Challenge will kick off this fall. Students interested in participating should check with their school or visit maverickchallenge.com for details.