SCOTTSBURG, Ind. (February 2015) – Scottsburg native Justin Westmoreland has always admired the charm and historic character of the Jeeves & Company restaurant and landmark facility, with 12,000-square-feet of space in side-by-side buildings, located at 64 and 80 South Main St. in downtown Scottsburg, Ind. The family-owned restaurant operated successfully in that space for 25 years before it was sold in 2012 to an investment group that changed the theme and cuisine, lost revenue, and finally closed the establishment's doors in May of 2014.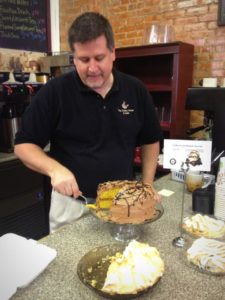 Westmoreland, who owns and operates The Coffee House & Café nearby on Scottsburg's downtown square, was saddened to see the restaurant close and noted its impact on surrounding businesses. "Since Jeeves & Company's closure, two neighboring businesses have closed, and some have shortened business hours due to less foot traffic on the square," Westmoreland said.
"I've looked at that historic facility – once a thriving hub of social activity, the go-to place for business meetings, and a tool for our city's economic growth – and see it as an opportunity for revitalization," Westmoreland noted.
In 2014, Westmoreland approached David Church, business development manager for Mid-America Science Park (MASPark), and Anita Walker, deputy director of the Scott County Economic Development Corporation, for their expertise when he was developing a business plan for the space. Once the plan was then approved and endorsed by the city council and Scottsburg Mayor William Graham, funding was secured, and Westmoreland took ownership in January.
His new vision for the space includes building on past successes. The interior will be renovated and restored, and the property will reopen in late March as a destination for dining, shopping and entertaining. The wide array of offerings will include:
The Bistro at Jeeves – a restaurant that will include a full-service menu for breakfast and lunch Mon.-Sat., brunch on Sundays, and a more upscale dinner service available Thurs- Sat. Wine and beer will also be offered.
The Coffee House at Jeeves – operation of The Coffee House & Café, currently open at 36 East McClain Ave., will be relocated to the Jeeves building, and will be open seven days a week.
The Shops at Jeeves – will feature a seasonal assortment of gourmet foods and dry goods, décor items and locally-crafted products for sale. The shop will be accessible from a street entrance, as well as through the interior for the convenience of diners. 
The Grand Ballroom at Jeeves – will include meeting and dining space for 175 guests that can be used for weddings, large meetings, exhibits, and regional events.
The Salons at Jeeves – include two, smaller meeting rooms upstairs that can accommodate 30 guests each, and are ideal for large dinner parties, meetings, and social events.
The Tea Room at Jeeves – located off the dining room on main floor, will be ideally suited for impromptu dining occasions and pre-planned social gatherings, including church meetings, bridal events and baby showers.
With the expansion of offerings included in the "At Jeeves" brand, as well as a focus on dining experiences that create loyal enthusiasts and glowing recommendations, Westmoreland hopes to firmly establish Jeeves as a full-service venue and event destination for the region.
"No matter where I've lived – Nashville, Louisville, Detroit or New York – I'm always drawn back to the potential and vitality of my own hometown, and am passionate about seeing it thrive," Westmoreland remarked. "As the owner of Jeeves, I will realize a long-standing dream I've had to create something wonderful here."
###