January is a great time to set goals for the coming year and make plans to learn new skills. There are two valuable training opportunities coming to the Mid-America Science Park this month to help get you started! Business professionals, managers, community leaders, entrepreneurs and residents of Scott County are encouraged to attend.
These training opportunities are being provided by the Scott County Economic Development Corporation, Mid-America Science Park and the Greater Scott County Chamber of Commerce in partnership with Ivy Tech and the Southeast ISBDC.
White Belt Training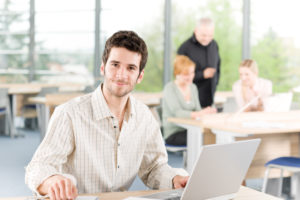 January 21 Ÿ 8 a.m. – 12:30 p.m.
Ivy Tech Community College is offering a free White Belt training course to help participants gain new skills in continuous improvement. In many areas of business and industry, today's workforce needs to be equipped in the basic tools of quality assurance, problem solving, understanding customer relations, project teamwork and eliminating waste. The skills and knowledge attained by completing the White Belt training class can be used in a business setting, healthcare, manufacturing and many other industries.
Ivy Tech's Certified Quality Trainers will teach this 4.5-hour noncredit workshop. Training will be held on Jan. 21, at the Mid-America Science Park from 8 a.m. to 12:30 p.m. Training is provided through Ivy Tech Community College at no cost to participants. You are invited to pre-register at ivytech.edu/14166.html.
Launch Your Own Business
January 27 Ÿ 2 – 5 p.m.
The Southeast ISBDC is offering a "Launch Your Own Business" workshop at the Mid-America Science Park on Jan. 27 from 2 to 5 p.m. This workshop will take you through the steps of starting a business and guide you through developing a business plan. The business plan is a necessary tool for all business start-ups and existing businesses – especially if the company is looking for a loan of any type. This workshop will include all materials, live instruction and a subscription to our online business plan guide, SmallBizNavigator.
The cost to attend is $39. Make plans to attend and pre-register at isbdc.ecenterdirect.com.