We're excited to announce that the Townsend Leadership Program (TLP) will be available at MASPark in Scottsburg starting in late January. This intensive, yearlong training program develops leadership skills such as motivating teams, communicating effectively and cultivating innovation. TLP director, Ginny Tackett is interviewing now for the 2015 Kentuckiana group.
Click here to see Dr. John Townsend share his thoughts on leadership and this exciting program.
According to TLP:
"Today's leaders need a complete skill set to help their organizations perform at high levels. Those critical skills break down into two categories: the task tools (aligning strategy to mission, vision and values; organizational structures; resourcing; and setting up systems/processes) and the people tools (motivating, messaging, gaining buy-in, building teams and creating a healthy culture).
The Townsend Leadership Program (TLP), created by Dr. John Townsend, develops these skills and more, equipping the leader for the challenge."
Contact Ginny Tackett for more information: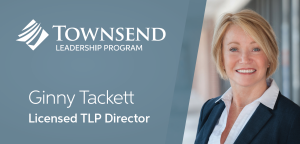 Townsend Leadership Program
Ginny Tackett, MS, LMFT, Licensed TLP Director
812.944.9133
Ginny.Tackett@TownsendLeadership.com
www.ginnytackettlmft.com
Click here to view the Program Brochure.
Learn more about Licensed TLP Director Ginny Tackett, MS, LMFT.