At the Mid-America Science Park (MASPark), one of our key focus areas is expanding access to training and education for Scott County residents. We serve as a hub for training and workforce development, offering students of all ages ample opportunity to study and earn sought-after degrees and certifications in progressive fields. We also serve employers who want to offer employees ongoing training and certification opportunities.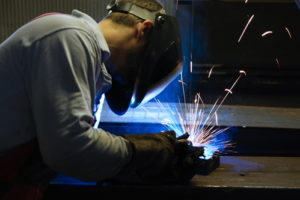 We have approximately 3,500 square feet of training space right in the heart of Scottsburg. MASPark's Training & Workforce Development Center includes an Amatrol lab furnished with equipment for advanced manufacturing and green energy training, a state-of-the-art Welding Institute, a 25-seat computer classroom, and a wide range of equipment to facilitate hands-on learning.
We are working hard to close opportunity gaps for Scott County residents because an educated workforce strengthens the local economy as individuals earn higher wages and businesses thrive. From technical skills training to adult education to dual-credit options for high school students, we are reaching hundreds of people and raising the bar in Scott County.
"As we strive to create a highly skilled workforce, we are positioning Scott County to attract and grow jobs," said Robert Peacock, executive director of the Scott County Economic Development Corporation. "A trained workforce is of great importance to companies when deciding where to locate or expand operations. Samtec choosing to locate in Scottsburg is proof that our efforts are working."
From MASPark, the SCEDC manages one of the top adult education programs in the state, also helping to improve workforce quality in Southern Indiana. The success of the adult education program has resulted in additional funding from the Indiana Department of Workforce Development.
"That funding is then re-invested to increase program capacity and educate more Scott County adults," Peacock added. "These education programs teach new skills, build confidence and help people secure better, high-paying job opportunities."
An integral part of the community, MASPark is creating opportunities for individuals, families and businesses in Scott County to prosper. For more information on training and workforce development opportunities, please call (812) 752-9521 x1225 or visit maspark.org.