This is the first article in a two-part series on workforce development programs available to high school students in Scott County in partnership with the City of Scottsburg, the Scott County Economic Development Corporation and the Mid-America Science Park.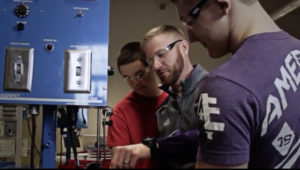 They haven't entered the workforce yet, but a number of Scottsburg High School students are taking steps now to ensure their success in the future. Their school days start just like any other, but by mid-morning they are on their way to the Mid-America Science Park to learn skills they can apply in today's advanced manufacturing and welding fields.
This style of learning may be unfamiliar to parents, and it's certainly not the same manufacturing people were talking about 30 years ago. These students are engaging in highly skilled training using the latest technology, and it's a smart move for those motivated to graduate a step ahead of their peers. They will graduate career-ready. Or, if they choose to pursue a two- or four-year degree, these courses are offered as dual-credit opportunities via Ivy Tech and can be applied toward a degree.
Kyle Mullins, the career and technical education teacher at Scottsburg High School, leads the dual-credit program and starts with students as freshman in an introduction to engineering class. From there, they can spend their sophomore and junior years earning industry certifications from the American Welding Society (AWS) and Manufacturing Skill Standards Council (MSSC). By their senior year, they are positioned to earn advanced certificates or ideally, complete an internship with a local employer.
There are currently 18 Scottsburg High School students enrolled in welding and 12 in advanced manufacturing. "Our students are digital natives. They've grown up with technology, and it's familiar to them," said Mullins. "Today's manufacturing environment allows them to use those skills and that passion for gainful employment and a successful career."
In December, 83% of Mullins' students earned their MSSC Safety Certificate. This is the highest pass rate since initiating the advanced manufacturing program at MASPark, and it exceeds the average pass rate in Indiana.
Mullins' visionary approach relies heavily on industry feedback to ensure he is structuring his curriculum to address the skills gap in manufacturing and related positions, particularly among local employers. Mullins is also working hard to build relationships with local manufacturers to secure more internship and job shadowing opportunities for his students.
If you are an employer interested in offering welding or advanced manufacturing internships, please contact Kyle Mullins at (812) 752-8927 x7134.
Kyle Mullins is from Charlestown, Ind., and earned a degree at Purdue University in engineering and technology education. In addition to his teaching position, he is the head football coach at Scottsburg High School.
Dual-credit courses for Scottsburg High School students began at MASPark in 2013. The program has expanded to include Austin and Crothersville High Schools, which will be the focus of the second article in this series. The Scottsburg Redevelopment Commission recently approved funding for CNC machining equipment that will allow students to train with equipment used in the field.