At the end of each year, our team takes a moment to reflect on the great activities and events that took place at the Mid-America Science Park (MASPark) over the past several months. We have the wonderful opportunity to meet thousands of people of all ages on a number of different career paths who visit our facility for training programs, business mentorship, networking and events.
Workforce development was a key focus area for the City of Scottsburg, Scott County Economic Development, and the Mid-America Science Park in 2016 and will continue to be in the future. We were so proud of the many students from Scott County Schools District 1 Scott County School District 2, and Crothersville, who continued their educational pathway in industrial dual-credit courses and worked hard to earn industry certifications in welding and advanced manufacturing. New this year, students engaged in valuable educational programming in robotics and 3D printing.
MASPark also added more services for entrepreneurs and small businesses interested in starting or growing their own business in Southern Indiana. We'll be opening a co-working and convening space next year for the entrepreneurial community and look forward to the positive energy and ideas that shared spaces inspire.
The event business at the Mid-America Science Park and our reputation as a first-class venue continues to grow. We're excited to increase the capacity of the banquet room in 2017 to accommodate 500 people and add features to better accommodate our guests' catering needs. An expanded parking lot and added signage will help visitors more easily navigate the MASPark facility.
We know many of you visited us this year, and we want to take this opportunity to thank you for your continued support of the Mid-America Science Park. It's community partnerships and your participation that make successes like these possible at the MASPark, such as:
Austin, Crothersville and Scottsburg students filled advanced manufacturing and welding dual-credit courses to capacity, earning national American Welding Society certifications before graduating from high school.
Scott County School District 2 students enrolled in robotics education and regional competitions this year and Scott County School District 1 students will be learning 3D printing skills in 2017.
Ivy Tech Community College and Indiana University Southeast offered spring, summer and fall courses for students and area residents in Scottsburg.
Region 10 Adult Basic Education, managed by SCEDC awarded 249 High School Equivalency diplomas and helped 61 students enter post-secondary education.
Ivy Tech Community College offered free White Belt training courses in Scottsburg, teaching essential skills like quality assurance, problem solving and team work.
Ivy Tech offered industrial maintenance and welding programs throughout the year.
MASPark became a member of the national organization of SCORE to provide entrepreneurial and business mentoring for start-ups and entrepreneurs in Scott County.
The Labor Institute of Training (LIFT) in partnership with MASPark hosted an exclusive MSSC training opportunity each month attracting advanced manufacturing instructors from around the country.
The National Institute of Metalworking Skills (NIMS) in partnership with MASPark provided NIMS train-the-trainer programs for this area of the United States.
A partnership with the ISBDC brought numerous training opportunities for local businesses including QuickBooks and How to Launch Your Own Business.
More than 30 employers and 200 job seekers from Scott County and surrounding areas participated in the second annual Now Hiring – Scott County Career Fair held in May.
The Regional Business Expo brought business leaders from around the region to Scott County for a day of networking.
Professional Women's Network luncheons held throughout the year at MASPark were well attended and provided many new connections for local residents.
We look forward to serving you in the coming year. We wish you and your family a joyous holiday season!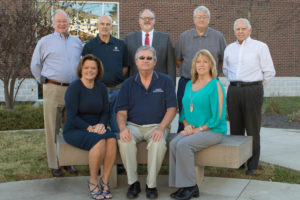 Front Row (L to R)
Anita Walker, Deputy Director, SCEDC
Robert Peacock, Executive Director, SCEDC
Tonya Tolbert, Grant Administrator, Adult Basic Education
Back Row (L to R)
Joe Pearson, Ed.D., Executive Director, Mid-America Science Park
Mike Kiefer, Facilities Assistant
Ray Niehaus, Managing Director of Innovation & Technology, Mid-America Science Park
Robert Poggel, Facilities Engineer, Mid-America Science Park
David Church, Director of Business Development, Mid-America Science Park