The Mid-America Science Park hosts an exclusive MSSC training opportunity each month attracting advanced manufacturing instructors from around the country. MSSC offers an intensive, three-day course in Scottsburg to train Certified Production Technician (CPT) instructors who teach advanced manufacturing courses in various educational settings. The MSSC training is part of Mayor William Graham's and the Scott County Economic Development Corporation's vision and assurance to Scott County workers and businesses that MASP would make nationally recognized training programs and opportunities available in the community.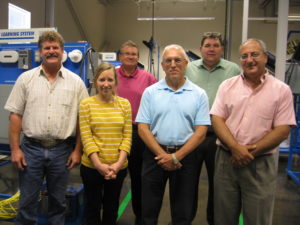 The MSSC, or Manufacturing Skills Standards Council, is an industry-led training system focused on the core skills needed in advanced manufacturing in the U.S. MSSC's CPT program certifies individuals who demonstrate mastery of core competencies in manufacturing safety, quality, processes and production, and maintenance awareness.
"We wanted to expand the program and its online offerings, so we moved the course from Amatrol (in Jeffersonville, Ind.) to MASP to take advantage of the larger facility, advanced manufacturing training equipment and video conferencing capabilities," said Kathy Clayton, MSSC CPT program coordinator.
A recent class attracted participants from Tennessee, Illinois, Washington, Iowa and Indiana. The instructors were impressed by MASP's first-class meeting facilities and the technology available on-site such as 3D prototyping equipment and water jet cutting services.
"It benefits the instructors to come together in a classroom setting and share styles and new ways of teaching," said Randal Saathoff, MSSC master trainer.
Chris Names, an instructor from the Seattle Skills Center, shared details about the core curriculum in Seattle, Wash., high schools. "Many of our students go into aeronautic engineering and will end up at Boeing, so we offer them a lot of hands-on training in manufacturing and engineering safety," said Names. "We teach kids about welding, drilling and precision measurement using Amatrol equipment."
Wadieh Hawa of Ivy Tech-Evansville said, "You get best practices here and learn a better way to deliver advanced manufacturing training."
"There's a lot of sharing, you get a lot more here than you do online," added Phillip Newman of Dyersburg State Community College in Tennessee.
For more information on the Training and Workforce Development Center at MASP, please call (812) 752-9521 x1224 or visit maspark.org.