ATENCIÓN Entrenamiento en Fundamentos de Fabricación Avanzada
ATTENTION! Training in Advanced Manufacturing Fundamentals
Este entrenamiento te proporciona/This training provides you with:
Mejores oportunidades de trabajo/Better job opportunities
Credenciales reconocidas/Recognized credentials
Mejore y aumente el inglés que usa diariamente en su trabajo/Improve and increase the English that you use daily in your work
Las clases técnicas se imparten en inglés y español sin costo alguno, excepto por su tiempo y compromiso./Technical classes are given in English and Spanish at no cost to you except for your time and commitment.
Manufacturing Skills Standard Council's Técnico de producción certificado (MSSC CPT) módulos de:/Manufacturing Skills Standard Council's Certified Production Technician (MSSC CPT) modules of: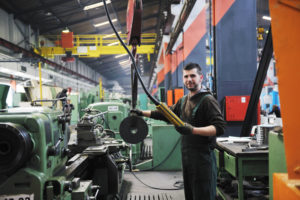 Seguridad | Safety
Prácticas de Calidad y Medición | Quality Practices & Measurement
Procesos de Fabricación y Producción | Manufacturing Processes & Production
Conciencia de Mantenimiento | Maintenance Awareness
Solicitud de Interés
Interest Application
Gracias por su interés en nuestro programa de capacitación de fabricación avanzada. Después de enviar su solicitud de interés, nuestro personal se comunicará con usted para determinar su elegibilidad para el programa./Thank you for your interest in our advanced manufacturing training program. After you submit your interest application, our staff will contact you to determine your eligibility for the program.
Pursuant to the Privacy Act of 1974 and Section 119.07 (5) (a) 3 F.S. (2005) and 5 USCA 552a, your Social Security number and personal information will be protected as confidential information by all staff members. Social Security numbers will be used for program evaluation purposes only. This information is reported to any/all approved Federal and State agencies regarding those services, and dollars spent as allowed under the Privacy Act.