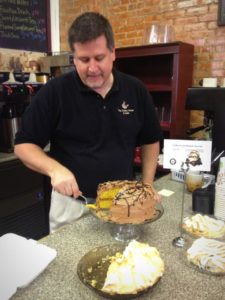 Around Scottsburg, you're likely to hear that The Coffee House has "the best chicken salad ever." These days, you're likely to hear a lot of good things about the restaurant's new owner, too. It's with mixed emotions that we announce our latest entrepreneur in Scott County. Justin Westmoreland, formerly the director of training and workforce development at MASP, is the new owner of The Coffee House at 36 East McClain Street.
Justin's friendly personality and enthusiasm pair perfectly with the warmth and charm of The Coffee House. As soon as you walk through the door, you know you're in for a treat. Celebrated as the best kept secret in Scottsburg, The Coffee House serves homemade meals and desserts from 7 a.m. to 6 p.m. daily and 8 a.m. to 3 p.m. on Saturdays. Take a quick stroll through their Facebook page, and you'll know why The Coffee House is filled with smiling faces.
Justin will continue to serve in an advisory capacity at MASP, offering his expertise in workforce development, and now entrepreneurialism, to others in the region looking to advance their careers and maybe start their own businesses. And, we're hoping when he visits, he remembers to bring a few specialty coffees and a decadent dessert or two!