Worldwide Communications and Conference Center – A place to meet and connect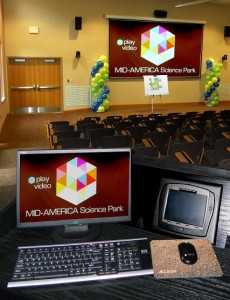 Consider hosting your next event at MASPark and take advantage our impressive facilities and courtyards. Our Worldwide Communications and Conference Center is ideal for business meetings, conferences and networking events. With 112,000 square feet of event space, MASPark is an excellent location for regional businesses, industry associations, university groups, local government entities and nonprofits to host meetings and events. The facility can also accommodate personal celebrations such as weddings and anniversary parties.
The Worldwide Communications and Conference Center is equipped with audiovisual resources to facilitate real time, global communication from anywhere in the facility. Individuals may use conferencing systems available from desktop computers, schedule the MASPark mobile unit for meetings in any lab space or meeting room, or take advantage of the permanent systems available in the primary conference space and Presentation Hall.
Presentation Hall
The 120-seat Presentation Hall is an attractive space equipped with state-of-the-art technology, theater-style seating and a large built-in screen for high-quality presentations.
View Details and Photos
Banquet Hall
The Banquet Hall is designed for events that attract audiences of up to 300 people. The newly remodeled space features state-of-the-art audio visual equipment including a 9×12-foot projection screen, a built-in stage with podium and a high-quality sound system. With 5,000-square-feet of space, the Banquet Hall can accommodate a variety of layouts including round table, classroom, U-shape and conference seating.
View Details and Photos
Display Hall
The Display Hall is equipped with two digital monitors to welcome meeting and event participants and familiarize them with the facility and its amenities. Registration tables, displays and refreshments may be set up here to serve as a pre-function area or to offer guests a coffee break. The area also accommodates banquet tables for up to 58 guests.
View Details and Photos
Conference Rooms
MASPark has four executive conference rooms available for general client and visitor use. Each accelerator space is also equipped with a private conference room. Our conference rooms accommodate groups ranging from 10 to 48 individuals depending on the client's desired layout.
View Details and Photos
Secure Rooms
Two secure rooms compliant with defense protocols are available to clients whose projects involve sensitive information.
View Details and Photos
Business Center Conference and Training Room
The MASPark Business Center Conference & Training Room is ideal when you need a classroom setting. The training room is equipped with a room divider and a mobile SMART board so that you can customize the room to your event or program.
View Details and Photos
Shared Courtyards
The MASPark atrium is located in the center of the facility, bringing natural light into the core of the building and providing a relaxing environment for clients. A beautiful outdoor courtyard equipped with a fire pit is also available for meetings and events ranging from formal presentations to team gatherings.
View Details and Photos
Kitchen/Break Room
A fully equipped kitchen is available in conjunction with meeting facilities. Catering resources are available upon request.
View Details and Photos
Business Center
Clients have full access to the MASPark Business Center to help them stay organized and complete last minute tasks.
Guest Feedback
"Thank you for another wonderful FFA Convention. Our event was flawless, and it's all thanks to you, your staff and your wonderful facilities. The kindness and hospitality at the Mid-America Science Park can't be beat!" – Erica Irlbeck, Ed.D., Texas Tech University
"Mid-America Science Park was the ideal location for our training conference aimed at Indiana First Responders. Evaluation surveys reflected the attendees' appreciation of the location, the layout of the training room and the amazing available technology. As organizers of the conference, we appreciated the staff who worked hard with us to make the day seamless. We are looking forward to hosting more events in Scottsburg!" – Kelly Cunningham, Indiana State Department of Health
"All of us here at National Able Network would like to thank you for the wonderful experience we had at our Site Supervisor Training Conference yesterday at the Science Park. [We] were very impressed with the entire facility and reception we were given. The caterer, Jan Collins, was wonderful. She received many compliments from the attendees and staff. Your facility is first class." – Jacque Denny, National Able Network