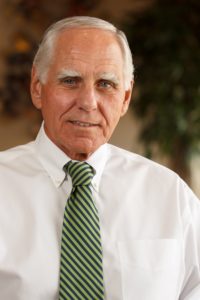 David Church, an entrepreneur with extensive experience building and managing successful businesses, has joined the Mid-America Science Park (MASP) as the director of business development. He will focus on assisting existing businesses with retention and expansion, helping entrepreneurs start and grow their businesses, and enhancing training and workforce development programs at MASP.
"We are fortunate to have a professional with David's level of experience join our team," said Dr. Joe Pearson, MASP executive director. "He has proven success in a variety of industries and will be a valuable resource to entrepreneurs and business leaders in our region."
Church has owned several businesses during his career, including tire and auto care stores, residential and commercial real estate developments, retail stores and a coffee cafe. He currently owns the Scottsburg Fresenius Medical Center, Rosewood Pointe housing development and Westwood Golf Course.
Before joining the Mid-America Science Park, Church served as senior vice president of Ken Towery's Tire and Auto Care of Kentucky and Southern Indiana, where he helped take the business from 16 to 27 retail locations in seven years. He assisted in the sale of Ken Towery's to a Rochester, N.Y.-based company in December 2012.
Originally from Michigan, Church graduated from Central Michigan University with a bachelor's degree in marketing. He currently lives in Scottsburg, Ind., with his wife Bonnie who is from Scott County.